kayak, walking  & camping adventures
Discover the unspoilt NSW South coast- Batemans Bay & beyond
Get your free Guidebook and 10% discount code
you just found your next adventure!   
We are an award-winning, environmentally-friendly kayak, walking and camping tour operator based in Batemans Bay NSW, Australia. We create accessible, fun, nature-based adventures designed to get people of all ages and abilities outside and into nature.
Choose an Guided Tour from 2 hours up to Half, Full and Multi-Day Sea Kayak Expeditions with Snorkeling, Whale Watching, Hiking, Camping and so much more!
Try a Self Guided Experience and head out to explore our stunning local rivers.
Join one of our programs, or choose a one-on-one kayaking lesson with an expert to increase your confidence on the water.
Ask us to design a Bespoke Nature Tour, or your next fun event, with kayak-based games and challenges.
If you are looking for something to do on the NSW South Coast and beyond, X marks the spot!
– THE REGION X TEAM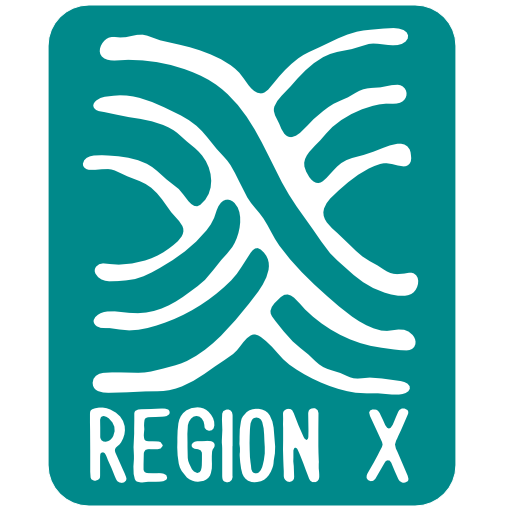 Staying Young at Heart The Young at Heart program provided a great opportunity to learn new skills and make friends. Each week was a little more challenging but never beyond our capability.
Great fun, confidence building and connecting to local community I completed a 6 week Young at Heart Kayaking Course. It gave me the confidence to kayak more, I met some fabulous people and found place locally i have never visited before
The best south coast immersion experience What a sensational morning! We paddled out over a gentle swell to a hidden, deserted cove where we snorkled in cold, crystal clear water before warming up with hot (brewed!) coffee. We lazed and explored for a while then had a cruisey paddle back exploring the nooks and crannies of the coastline. David was an awesome friendly and knowledgeable guide, pacing us perfectly. All up this was a really special experience. Now feeling wonderfully tired, salty and happy!
Give it a try... This was a perfect introduction to multi-day bush walking. Our guides, Eva and Dave, and fellow walkers accommodated my slower pace very kindly. The surroundings were beautiful and full of variety.
Amazing Oyster tasting Kayak tour It was an absolutely amazing experience. We were able to kayak alongside an experienced tour guide (Michael, who was epic btw!), taste local oysters and listen to a local 4th generation oyster breeder talk about their art in the oyster industry! Don't even contemplate, if you're looking for something to do in Batemans Bay, you gotta check Region X out and book this tour!
Wonderful day exploring the Yuin Country coastline We had a terrific day and half day sea kayak with Gaz and Michael. We loved the paddle to black rock and the pit stop on the beach for morning tea. We even had visitors the last portion of the trip with dolphins close by and whales in the distance! I thought I would have needed more strength for having to paddle for a few hours but the kayaks are so sturdy and do most of the work. We are local and already looking forward to another tour at some stage. Thank you!
Great guides, great location Guides David and Jackson looked after us well and took us on a great tour into the mangroves on the incoming tide (which as I understand may or may not be part of your tour, depending on conditions). Thoroughly enjoyed by all the family.
The best way to explore the Bay One of the best ways to experience the Bay - the team makes it very interactive and fun at the same time, even for first timers. We went up all the way to the estuary and kayaking through the mangrove trees, which would be the only way to explore that area in style. The trip is also separated with small breaks and the kids were having an awesome time playing games up on the beach. Most of all, the team was always there making sure you're looked after throughout the entire journey. Highly recommended! Thank you for making our morning so enjoyable!
Great way to experience Batemans Bay We did the pizza and paddle experience at sunset. Jaxon and Michael were fantastic guides, friendly, helpful and accommodating. The pizza on a kayak was unique and delicious, and the kayaking around the Clyde at sunset and in the evening was beautiful. Definitely recommend this trip.
Great tour! It was a really enjoyable experience kayaking, visiting and learning about oyster farming. The tour guide was very knowledgeable and it was a great way to spend a few hours at Batemans Bay.
#1 RATED TOUR COMPANY IN BATEMANS BAY!
Join 4th Generation Oyster farmers on the magnificent Clyde River Estuary system, home to the most delicious oysters grown in the purest Australian waters. Taste the varieties and witness the brimming racks of produce as you float along.
Discover the marine world below on this achievable family-friendly adventure. Kayak the tranquil waters of Batemans Bay Marine Park and use your keen observation skills to spot stingrays, fish, birdlife and other marine creatures!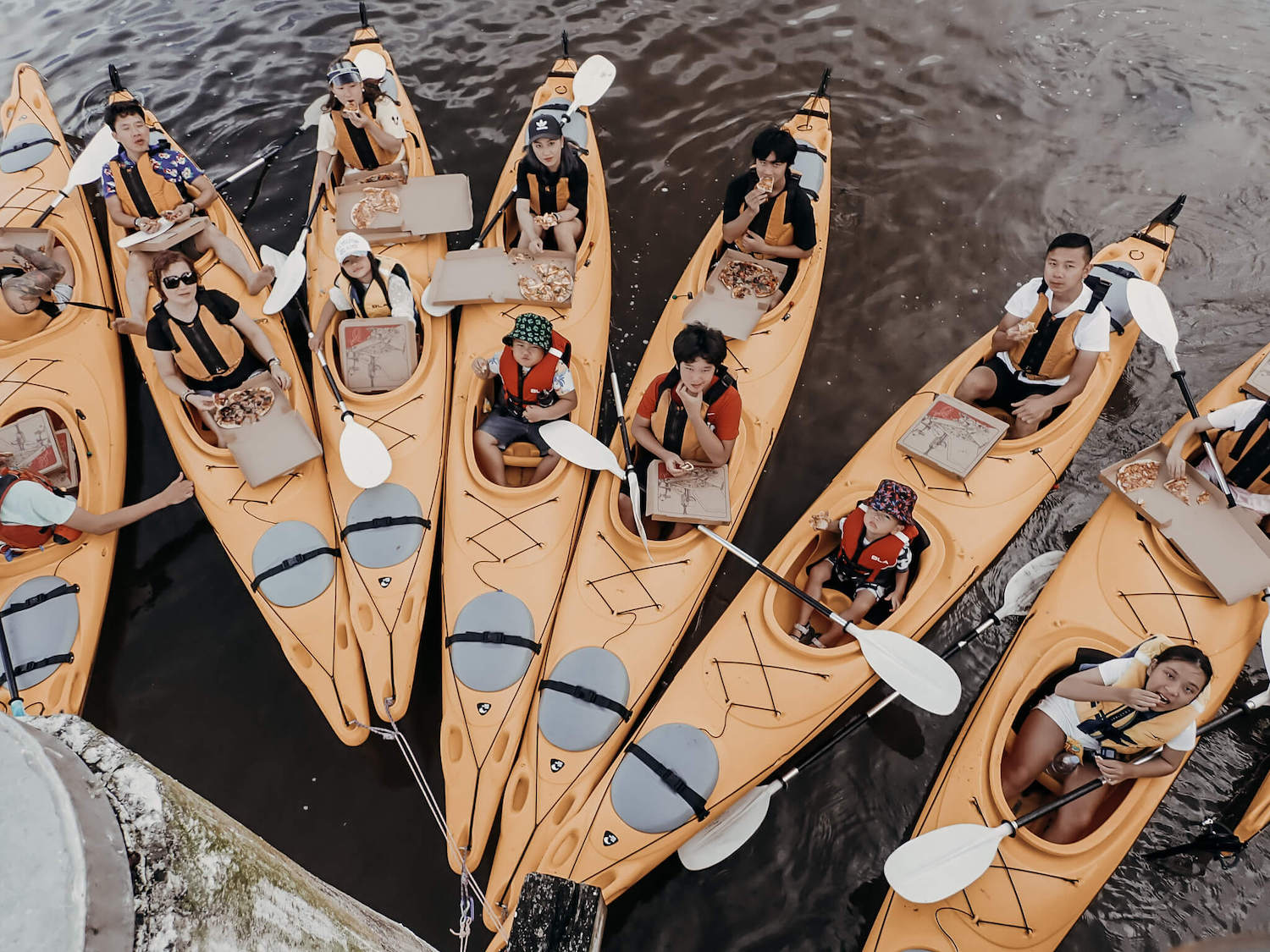 Enjoy the sunset over Clyde River National Park Batemans Bay, and enjoy the thrill of having award-wining pizza delivered to your kayak! See the nocturnal marine creatures spring to life as the sun gives away to the moon and stars!
Join us for our popular Half Day Sea kayak Tour! Kayak to unspoilt ocean coves and relax in remote beauty. Morning tea picnic and snorkelling equipment provided.
Advanced Kayakers Only. Kayak offshore to our distinctive Tollgate Islands, where secret coves, overhangs and passages provide amazing paddling vistas.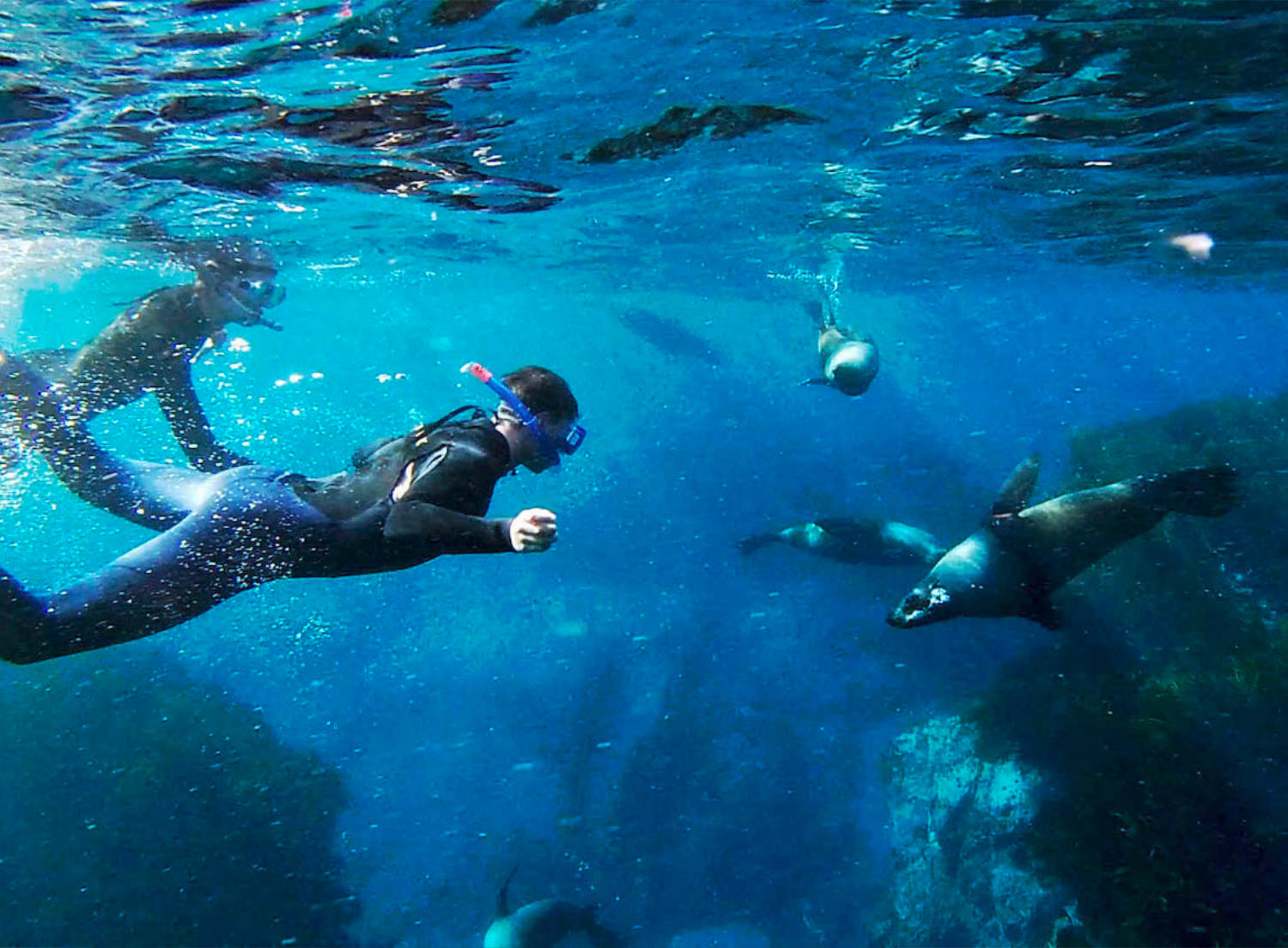 Wow! Slip into wetsuits, and paddle out to a destination to snorkel from your anchored kayaks. The funnest way to snorkel on the South Coast of NSW! We provide everything you need including wetsuits, snorkel equipment you just need to be ready for an amazing morning on the water!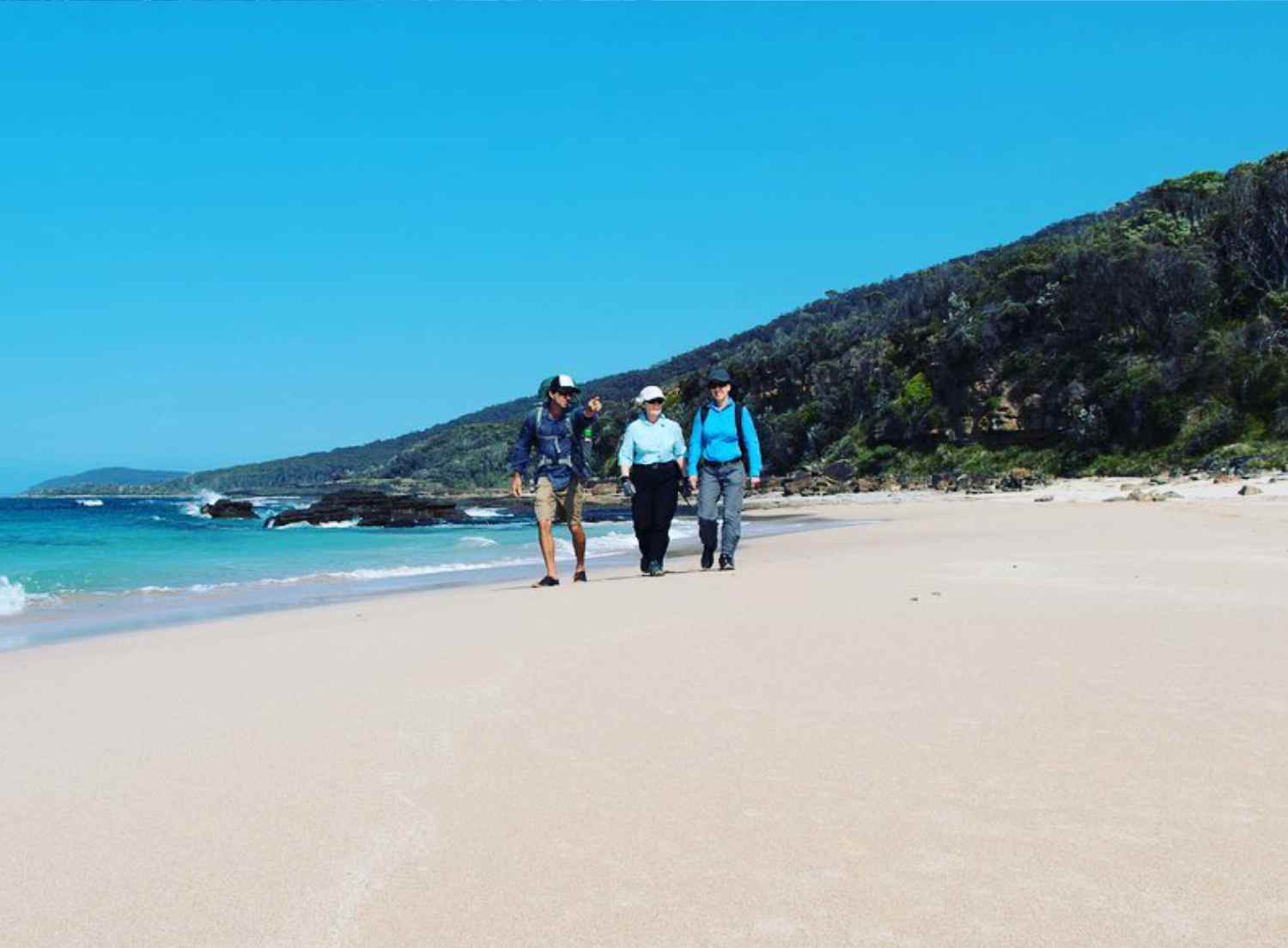 Enjoy comfortable transfer from Canberra to the Coast. Explore the waterfront village of Batemans Bay, meet kangaroos along the beaches of Murramarang National Park and experience our famous 'Farm Gate' Oyster Tasting Kayak Tour before returning to Canberra.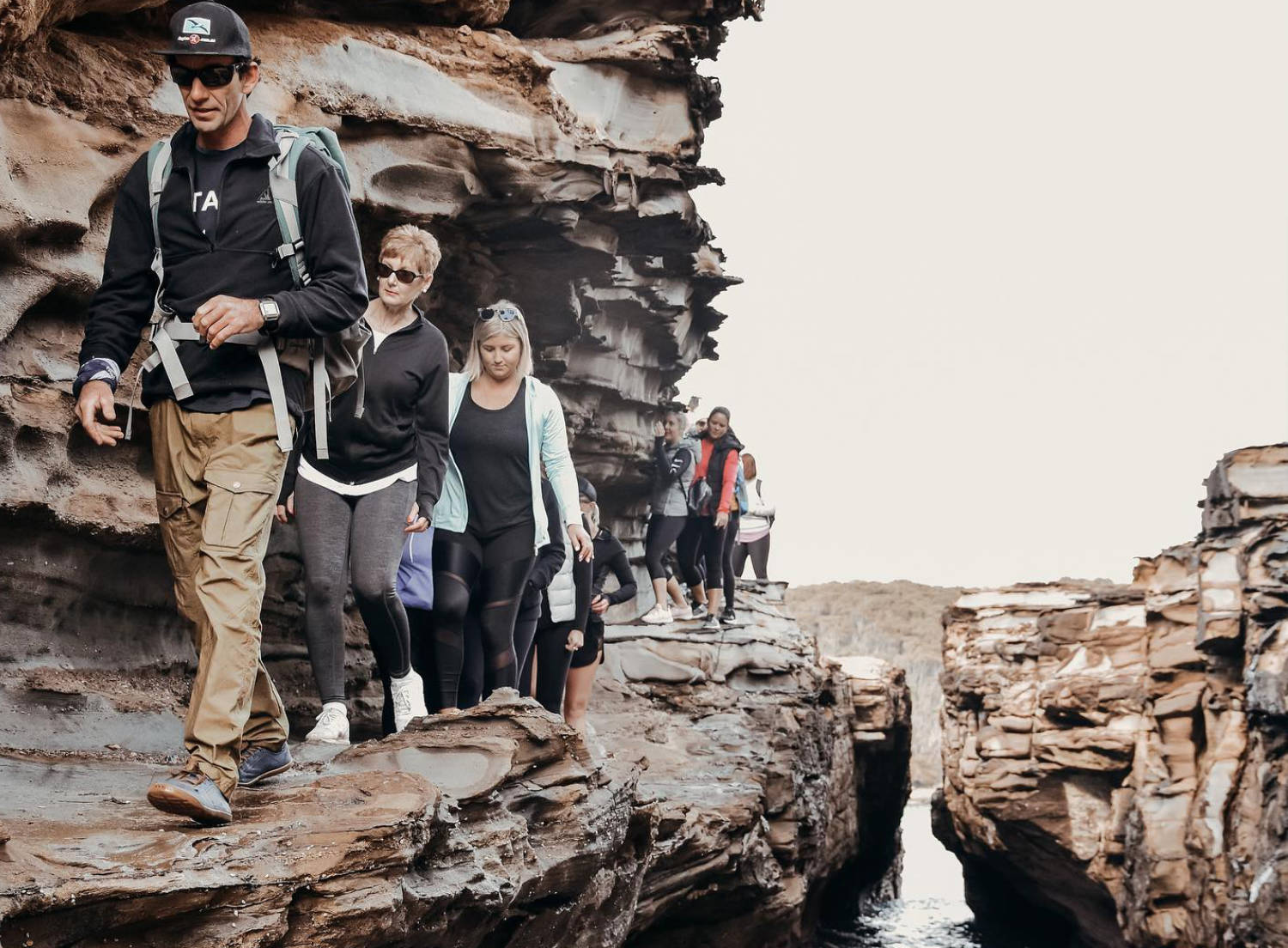 A moderate guided day walk along the exquisite Murramarang National Park coastline. Be transported back in time as you learn about the history, ecology and geology of the area. Watch whales from clifftops and enjoy a refreshing ocean dip! Includes vehicle transfer, morning tea, kayak option and delicious lunch.
The best short hike on the NSW South Coast. Enjoy comfortable transfer to the National Park and experience this moderate summit walk with an expert guide. Take in the 360 degree summit views over a picnic lunch and stop at a waterhole for a swim upon returning!
Ready to sleep out! Load up your Kayak with all the essentials and head off self sufficient to exclusive spots to lunch, relax, explore, swim and set up camp. Stay under the stars, or in tents, a perfect escape for nature lovers!
Explore the magical Clyde River by kayak, navigating over 3 days from freshwater to the ocean in Batemans Bay. Learn about the significance of Bhundoo (Clyde River) to our Nations First Peoples, enjoy campfires in stunning remote campsites and fall asleep under the stars. All equipment provided.
Experience one of Australia's signature walks: our unique Murramarang Coast Journey. Explore magnificent beaches, ancient geology and lush forest on this guided adventure. Premium accommodation, meals and optional relaxed kayaking  included.
Overnight kayak adventures are the best! We show you how to load up your Kayak with all the essentials and head off with your guides to exclusive spots to explore, swim and stay under the stars, or in tents, a perfect escape for nature lovers! Includes return transport to and from Canberra. 
Guide your own journey along Clyde River, Batemans Bay with our detailed guidebook and expert support. Gain access to our hidden camp spots and unveil the secrets of this magic drowned valley river system. All gear available for hire!
Travel a scenic 2 hours from Canberra to the Coast and discover... magnificent beaches, intricate geological patterns and amazing forest on this guided three day walk along the breath-taking Murramarang National Park, NSW South Coast. This Journey includes city transfer, all meals and stunning accommodation along the trail.
Kayak Hire at the famous boatshed, Mossy Point!
Perfect for all ages and abilities!
Self Guided Kayaking on crystal clear water, just 20 minutes South of Batemans Bay on the NSW South Coast. Enjoy an in-depth kayaking lesson from one of our experts, before gearing up and heading off on your own adventure!
Many of us like to explore at our own pace, kayak hire or "Self-Guided Kayaking" is perfect for kids, families, singles, groups, birthday parties and staff outings. We even welcome your furry friends!
PLUS…enjoy some of the best barista-made coffee in town and peruse locally made treats, apparel and merchandise before or after you kayak along our pristine river.
HOW IT WORKS…
Choose a Single kayak, a double kayak or a double with a child's seat
Choose a time and duration between 7:30am and 2:30pm (we recommend 2 hours)
Meet us at "The Boatie" and we'll sort you out with all the gear, including a lifejacket and dry bag for your personal stuff
Enjoy a Kayaking Lesson before you go exploring this safe estuary, its  amazing mangroves, tidal flats and various creatures that inhabit the area including stingrays, crabs, fish, eagle rays and water birds!
LOOK FOR: Large Smooth Stingrays that are becoming a regular attraction as they feed at the boat shed on fish scraps as the fishermen clean their daily catch