3 Day Murramarang premium Journey – Departing Batemans Bay
the premium Murramarang Journey – a signature 3 day walkING experience  
Walk in the wilderness
Discover Lyrebirds and other wildlife as your explore the bush to the sea.
Food Lovers
Enjoy locally sourced, nourishing meals lovingly prepared by your Guide/Chefs.
National Park
Discover pristine Murramarang National Park on the NSW South Coast.
Price: from $1099
(based on twin share)
Fully guided 3 day walk experience 
2 nights accommodation in private villas
Incredible meals
Lake kayaking experience  
Transfer to and from Batemans Bay
Photos of your experience
Upcoming Start Dates
Oct 9, 11, 22, 25
Nov 1(full), 12, 15, 22, 26, 29
2024, Feb – Nov lots of dates avail! 
"Pack Free" walking with just a daypack  
Luggage transfer to accommodation 
3 diverse walking days: cliff tops, beaches and rainforest trails 
Wildlife encounters, like friendly roos!
Stunning villa accommodation 
the signature south coast nsw walking experience 
The South Coast of NSW is famous for its temperate climate and amazing beaches. The area of Murramarang National Park is no exception. Based out of Batemans Bay, witness incredible temperate forest and varied dramatic coastline, rich sandstone layers and conglomerates on this Premium walking experience with accommodation.
Walk with only a day pack on this fully supported and guided hike, so you can save your energy for soaking up the experience. Walk an achievable 10 to 16km per day through diverse landscapes, enjoying barefoot sections, opportunities to swim in turquoise water, optional side walks, stretch sessions and the possibility of kayaking across the peaceful Lake Durras. 
Enjoy each nourishing meal, locally sourced, tailored to your tastes and lovingly prepared by your guides along the trail.
Arrive at your waterfront accommodation in the afternoon with ample time to relax, read a book, add in a massage, or continue your own exploration on foot.  Enjoy a social dinner feast as the sun sets 
Each of the days on this walk are surprisingly different. Walking the stretch of coast is an intricate insight into the timeline of the Australian environment, be prepared to walk rock ledges, sandy beaches, pebbly coves and rain forest trails.
"The whole experience was amazing, from the quiet inaccessible beaches to the amazing food provided and of course the walking itself. What a way to connect with nature as you traverse through Murramarang."
– Geoff
DAY PRIOR TO YOUR ARRIVAL
We recommend you arrive in Batemans Bay the day prior to your adventure (we can offer additional Airport or hotel Pickups in Sydney or Canberra). 
You can choose any number of hotels for your first night, we are happy to make a suggestion for you.
DAY 1
730am – Hotel Pickups commence
Be greeted at your hotel by your hiking guides, we load your cabin baggage into the van, and enjoy a transfer into the southern end of the park. With only your day packs (BYO or available for use from Region X) we commence the hike along forested trails along some incredible cliff top vantage points where wildlife viewing such as Whale watching is very special treat anytime from June – November.
Beaches such as North Head beach, Honeysuckle, Myrtle, Oakey and Richmond all connect through forested trails that rise over headlands and emerge as subtle paths onto sandy shores. Any of these form great resting and lunch stops (supplied en-route).
Conglomerate rock visibly ends and gives way to the most southern point of the Sydney Sandstone basin after lunch where visitors walk the varied layers of sandstone through cracks and coves to your first night accommodation.
Check in to your twin share beachfront villa and enjoy afternoon tea.
Tonight dinner will be served at the onsite restaurant.
DAY 2
Post breakfast we load your cabin baggage into our vehicle transfer and set off along the beach. Cookies Beach ends in a short rock scramble prior to setting off on the long open stretch of Durras Main beach. If we are lucky we can spot dolphins in the surf and new flotsam on the beach. Durras Lake enters the ocean half way along the sand where a wonderful kayak crossing gives us a greater understanding of this amazing lake system. Here you will cross the border from Eurobodalla to the Shoalhaven Shire.
The Lake is an Intermittent Closed or Open Lake System (ICOL).
The northern end of Durras beach is a great spot to stop for morning tea prior to the uphill rainforest hike over Point Upright, a dominant sea cliff where a side hike with views into the pacific is recommended. We arrive at Depot beach one of the coasts remnant loggers camps, now an exclusive holiday destination. Here kangaroos are tame and incredible birdlife enjoys the climate.
Settle in to your cabin accommodation and enjoy lunch and an afternoon of exploring the area.
Dinner is served in the villas this evening. 
DAY 3
After breakfast leave the comfort of your cabin and stroll off along the trail to iconic Pebbly Beach where resident Kangoroos and found fame as visitors come to photograph them lazing on the beach in true Australian style. The beach is one of the prettiest beaches on the South Coast.
The trail winds over ridges and down to beaches, creeks meet the ocean here as the dominant Durras Mountain (the largest mountain in the area) provides a watershed and pockets of rainforest relish with the moisture. The views to the ocean are amazing and the rock platforms are all individually striking. Spend time discovering the beauty of the landscape. You spend the day discovering an almost different National Park as compared to the first days. As the afternoon continues there is little wonder why the end location is called Pretty Beach, a striking white sand and rainforest location you end your hike at the National Parks office.
Transport will collect you and take you back to your Batemans Bay Hotel of Choice at approximately 3pm.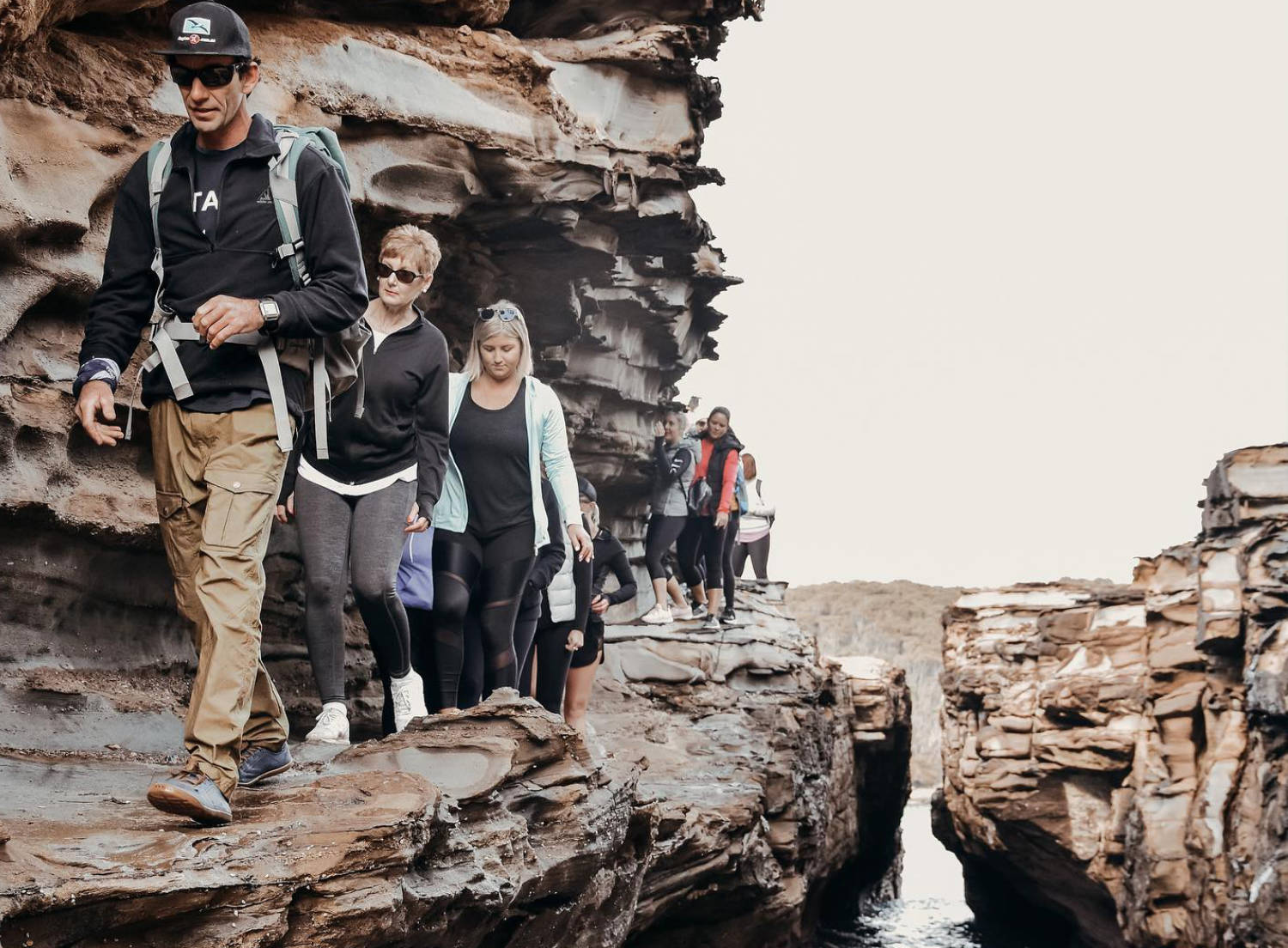 WHAT TO BRING

You will receive a comprehensive packing list upon booking
WHAT'S NOT INCLUDED
All flights, airport arrival and departure taxes

Transfers to and from Batemans Bay pre or post tour

Alcoholic beverages while on tour

Travel insurance or emergency evacuation charges
By choosing this Ecotourism Experience you are making a conscious decision to reduce impact by promoting sustainable travel that benefits local communities, culture, and heritage and ultimately the environment.
Do you have questions or would like to make an enquiry?
Call us on 1300 001 060 or fill out the form below