Sea Kayak Tollgate islands
Sea kayak tollgate islands
Wildlife Encounters
Finding amazing animals is a highlight on this tour. 
Active Adventure
Thrilling sea kayaking and snorkeling experiences.
Food Lovers
Enjoy great coffee and a deliciously, wholesome morning tea.
Wildlife Encounters
We'll show you the best spots to be like Attenborough and discover the animals
Guided 5 hour kayak journey
All kayaking gear
Dry bags for your belongings 
Optional anchor and snorkel, bring your own gear or use ours! (please note Wetsuits are not supplied)  
Delicious morning tea picnic 
Photos of your experience
Paddle offshore to the Tollgate islands!
Discover this untouched sanctuary
Explore hidden caves and grottos
Travel in comfortable double sea kayaks
Spot wildlife like seals, whales, dolphins, migrating birds and more!
Whale season August to November
Explore Batemans Bay's incredible island sanctuary – the Tollgate islands
If you have a passion for nature and adventure, then this paddle to a seldom visited island chain is for you! The islands are a fascinating destination with many unique cliffs, grottos, overhung ledges, making the paddle out and a circumnavigation worth the effort. The islands are located in exposed waters approximately 1 hour paddling time from land, home to many seabirds, thriving due to the minimal disturbance. Little penguins, oyster catchers, petrels, birds of prey and more make their home among the pebble beaches, grasslands and cliff edges.  
We like to advise that this journey is only suitable for people who have kayaked previously, no kids or non swimmers. We will choose a departure point, either Maloneys Beach or Wimbie beach (the two closest mainland options) to start the journey.
Between June and November, there is the very real possibility of seeing migrating whales up close on your tour! A truly exhilarating experience.
This tour runs daily, please be aware this is an open water experience and is conditions depending. 
"Great guided sea kayak trip that we wouldn't be brave enough to do on our own. Perfect weather, clear water, dolphins and seals followed by a remote beach picnic."
6:30
To start this amazing tour, you will be met by a friendly Region X trip leader at the start location, nice and early! We choose between Maloneys Beach or Wimbie beach, depending on the conditions, we will let you know the day prior.
Our staff will give you a sea kayaking lesson on the beach, before setting off on your guided adventure.
The open water paddle will give us an indication of the forecast and allow us to spot possible wildlife. The views are magical and always changing as the islands begin to grow in size as we approach!
There is no landing permitted on the protected islands, so we take our time paddling around them, stopping to soak in each fascinating geological and natural formation as we go. We then find a sheltered cove to float around and enjoy a snack. Some groups have chosen to anchor the kayaks and jump in for a snorkel, which can be arranged!
While the journey back may feel like a long way, our scenic landing spot on the mainland will give the group a rest – well worth the effort! We spend some time here, we stretch our legs and enjoy a delicious morning tea, walk, swim or relax on the beach.
Returning to our kayaks for just a short paddle, we arrive at the finish location by midday. 
A transfer back to your vehicles will follow.
The Tollgate Tour uses capable double sit in style sea kayaks (doubles), often called "the bears of the sea". It is an extremely eco friendly way to visit an area with low impact, no noise, long life of the craft and powered by you! A very Carbon friendly activity.
The tour departs all year, on demand, weather permitting.
You can book any date in our availability calendar you like.
This tour is not suitable for small children (under 9).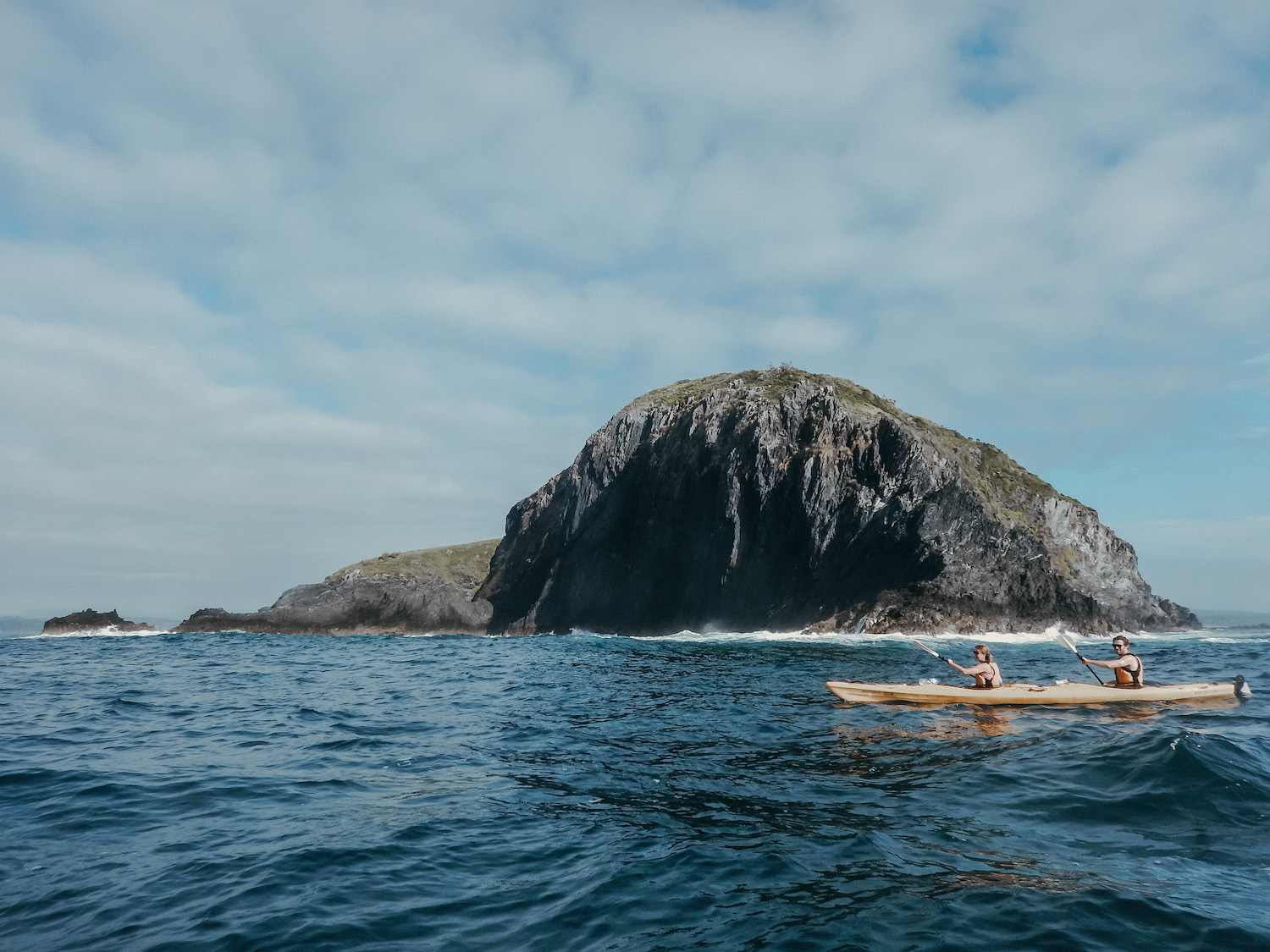 By choosing this Ecotourism Experience you are making a conscious decision to reduce impact by promoting sustainable travel that benefits local communities, culture, and heritage and ultimately the environment.
Do you have questions or would like to make an enquiry?
Call us on 1300 001 060 or fill out the form below