Whale season is here!
Here's How To Spot Whales on the NSW Far South Coast. 
Humpbacks and Southern Right Whales are busy cruising up and down our beautiful coastline.
While you can spot these epic creatures from almost any slice of the south coast with a water view, there are some spots on the land and in the water that promise bang for buck if you're planning on going for a whale-watching session. 
Here are some tips on the best way to spot Whales this season, plus a few hints of the best places to go to find them!
From a higher vantage point, you can see further into the distance, and you can also look down onto the ocean's surface, rather than just straight across the horizon like you would at sea level. This gives you a better chance of seeing the breaths, backs, splashes and fins of whales passing by over a larger area. 
If you look at a map of the Australian coast, there are loads of harbours and bays and a really wriggly coastline. It's important to look at the layout of the coast and pick a headland or stretch of coast that sticks out East into the Ocean.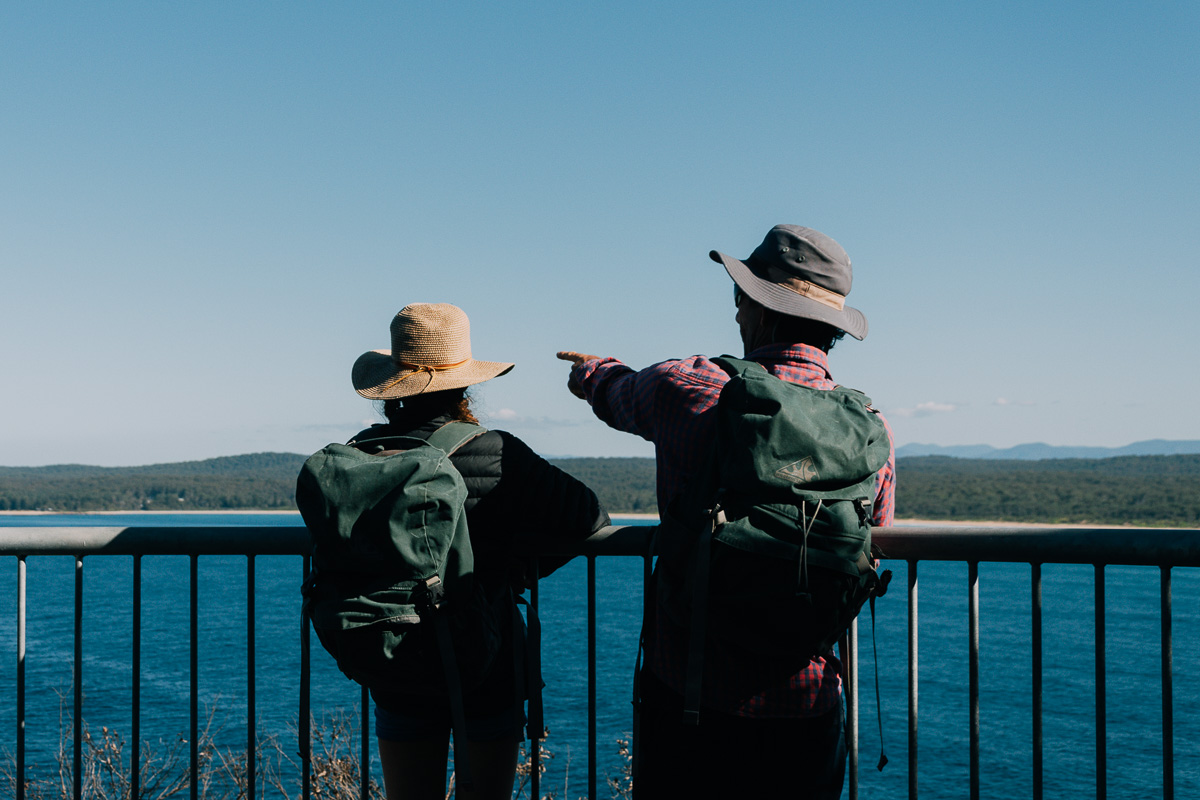 In the early part of the season when whales are heading North, they're usually further out to sea and moving quickly, so looking from a high Easterly vantage point is critical to spotting them. 
Some of the best places to spot whales on the NSW Far South Coast that fit this criteria are:  Snapper Point Lookout, Point Upright and North Head which can all be found along the Murramarang South Coast Walk. There are also great options for whale viewing at Burrewarra Point,  Mullimburra Point and Bermagui Headland further to the South.
Spot Whales From A Sea Kayak
The best way to see a whale is from within its natural habitat – the ocean!
Take a half-day sea kayak tour along the magical Batemans Bay coast and have the opportunity to safely get up close and personal with these magical creatures. 
Raft up with your guide and float peacefully off the coast as these gentle giants of the sea frolic and wallow their way past. It's important to never paddle close to the whales, but instead sit at a safe distance and let them come to you if they choose. If you're lucky you'll hear their songs and feel the spray as they take big deep breaths on the surface!
The best time to see Whales from the sea kayak is when they're moving slowly South with their young from Sept – November. Just remember to keep your distance!
NSW boasts some magnificent coastal walks that traverse spectacular headlands and pristine beaches. Taking on one of these walks will give you a real sense of connection to the coastal country and provide plenty of opportunities to stop along the way and see the whales cruising past! 
The Murramarang South Coast Walk is a spectacular 3 day walk through Murramarang National Park. It features ancient rainforest, gorgeous beaches and of course plenty of lookouts, headland and vantage points to spot whales. You can do a self-guided walk along the trail or book a guided, pack-less journey. 
The Bingie Dreaming Track and Light to Light walk, are also great for spotting whales on the Far South Coast.
Spring on the South Coast is when the whales are close to shore, making their way slowly back South with their calves in tow. They look for protected bays to feed, rest and hide from predators. 
Luckily, this is also when the weather starts to warm up, providing excellent beach days for Far South Coast residents and visitors!
Pack your swimmers, a thermos and a picnic and spend the day swimming and playing at the beach. You might just be lucky enough to witness a whale family doing the same thing in the water!
There are two main whale species that frequent the Far South Coast. Humpbacks are the most common and travel past on their way to warmer waters in Northern NSW and Southern QLD. They arrive early in the season around late May/early June. They are characterised by their grey bodies, small dorsal fin (or 'hump' hence the name), long slender pectoral fins and a single vertical spout of mist when breathing. 
Southern Right Whales are fewer and stop much further South to breed from Spring onwards. They were once almost extinct due to whaling and were named Right whales because they were the 'right' whales to hunt. They are characterised by their large, black knobbly heads, smooth back with no dorsal fin, squared-off pectoral fins and a breath that shoots two diagonal spouts of mist at a 45-degree angle. 
You can also spot orcas, blue whales, minke whales and sperm whales if you're really lucky!