Summer is here, and there's no better place to soak up the sun and enjoy the beautiful Australian coast than Batemans Bay. Located on the New South Wales South Coast, Batemans Bay offers a wide range of activities for visitors of all ages. Whether you're a nature lover, a foodie, or an adventure seeker, there's something for everyone to enjoy.
In this blog, we've highlighted the top 5 things to do in Batemans Bay this summer.
One of the best ways to explore the stunning natural beauty of Batemans Bay is by kayaking the tranquil waters of the Clyde River. You can hire a kayak from several local providers including us at Region X or the Mossy Point Boat Shed, and whether you're a beginner or an experienced paddler, there are options for all skill levels.
Glide along the river's serene waters, surrounded by lush mangroves and picturesque scenery. Keep an eye out for local wildlife, including dolphins, birds, and even the occasional kangaroo by the water's edge. Kayaking is not only a great way to stay active but also a fantastic opportunity to connect with nature.
2. Relax on Batemans Bay Beaches
Batemans Bay boasts some of the most beautiful beaches on the New South Wales South Coast. Spend a leisurely day at popular spots like Surf Beach, Corrigans Beach, or Malua Bay Beach. Whether you're looking to swim, sunbathe, or build sandcastles with the family, the region's sandy shores have you covered.
Pack a picnic, grab your sunscreen, and enjoy the sound of waves crashing against the shore as you unwind in this coastal paradise.
3. Visit Mogo Wildlife Park
For a family-friendly adventure, head to Mogo Wildlife Park, just a short drive from Batemans Bay. This award-winning zoo offers a chance to get up close and personal with a diverse range of exotic animals, including lions, tigers, and meerkats.
The park is committed to conservation and education, making it an enjoyable and educational experience for visitors of all ages. Don't forget your camera, as you'll have the opportunity to capture memorable moments with these magnificent creatures.
4. Explore Eurobodalla National Park
Nature enthusiasts will be delighted by the pristine landscapes of Eurobodalla National Park. With an array of walking trails, you can immerse yourself in the beauty of this coastal wilderness.
Don't miss the opportunity to hike to stunning lookouts like Pebbly Beach, where you might spot kangaroos on the beach, or Montague Island, home to a thriving colony of seals and seabirds.
The national park offers a chance to connect with the great outdoors and appreciate the unique flora and fauna of the region.
5. Savour Fresh Seafood and Local Cuisine
Batemans Bay is renowned for its delicious seafood, and summer is the perfect time to indulge in this coastal delight. Head to one of the town's seafood restaurants or waterfront cafes to savour dishes like freshly caught fish and chips, succulent prawns, or mouthwatering oysters.
The local cuisine reflects the region's maritime heritage, and you'll find an abundance of options to satisfy your taste buds while enjoying beautiful views of the bay.
We offer a great way to enjoy the local cuisine while taking in the sights. we have a Sunset Pizza Paddle Kayak Tour and an Oyster Tasting Kayak Tour. 
Join 4th Generation Oyster farmers on the magnificent Clyde River Estuary system, home to the most delicious oysters grown in the purest Australian waters. Taste the varieties and witness the brimming racks of produce as you float along.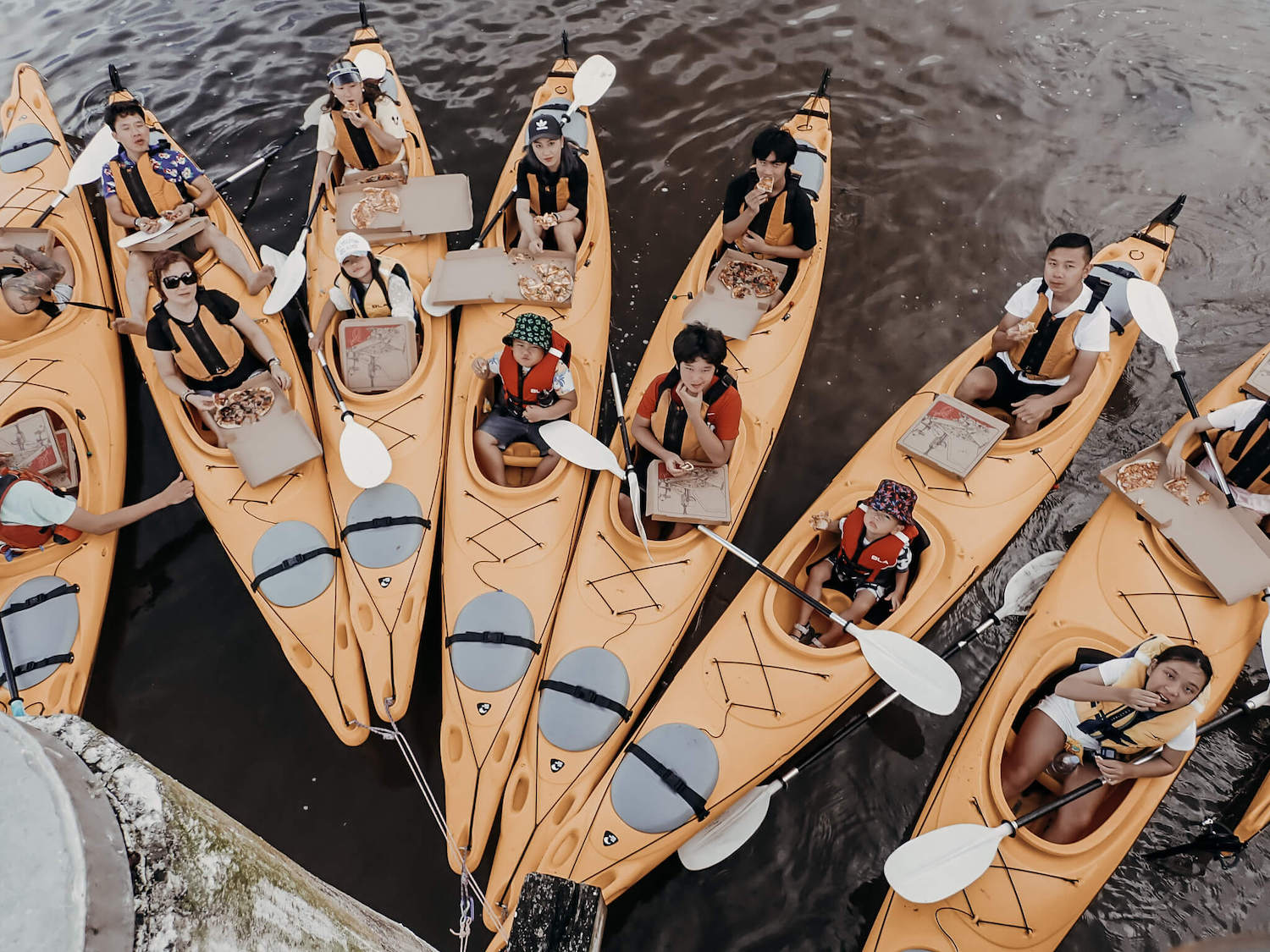 Enjoy the sunset over Clyde River National Park Batemans Bay, and enjoy the thrill of having award-wining pizza delivered to your kayak! See the nocturnal marine creatures spring to life as the sun gives away to the moon and stars!
So, there you have it – the top 5 things to do in Batemans Bay this summer. Whether you're seeking adventure, relaxation, or a taste of the local flavours, this coastal gem has it all. Be sure to include kayak hire on your itinerary for a memorable and immersive experience on the Clyde River.
Get ready to create unforgettable memories in this stunning corner of the Australian coast.
Enjoy your summer in Batemans Bay!